1. Drink more water
Water is involved in many metabolic processes in our body, being dehydrated has the potential to slow your metabolism down, which can hamper weight loss.
According to a Research, having a glass of water before a meal can make you feel satisfied faster, meaning you eat less calories. So, drinking a significant amount of water will definitely help you in losing weight.
2. Exercise Daily
Adding more activity to your daily routine – walking to work or using the stairs – is a sure fire way to aid weight loss. Weight lifting is also really important to stop your body losing muscle mass.
When you introduce a calorie deficit into your diet and your body notices low energy levels over a prolonged period, it may enter 'starvation mode' where it starts to break down muscle for energy and your metabolism slows down.
Lifting weights and other resistance exercises will prevent you losing muscle mass and speed up your metabolism fast.
3. Cut out high-calorie condiments and sugars
"Instead of getting a coffee with sugar, try Splenda," says Banes. Likewise, try mustard on your burger or sandwich instead of mayonnaise, and order your salad dressing on the side so that you can control the amount you eat.
4. Take Proper Sleep
Getting your eight hours shut eye is just as important as your diet and exercise regime when it comes to weight loss. In a study by the University of Leeds,  1,615 adults reported how long they slept and kept records of food intake.
Indicators of overall metabolic health such as blood pressure, blood cholesterol, blood sugar, and thyroid function were monitored, as well as weight and waist circumference recorded.
Those who slept for six hours or less a night had waists that were on average 1.1 inches (3cm) larger than those who slept for nine hours.
5. Make green tea your tipple
The bitter-tasting refreshment has been of growing interest for dieters because of its ability to stimulate fat oxidation. How does it work? It's all down to the catechin polyphenols. Absent in black tea as a result of its fermentation process, catechins are thought to stimulate fat oxidation and have the potential to increase fat metabolism.
6. Skip the fast food
A study of 1,713 adults who have been successful with weight loss demonstrated that people who eat at fast-food restaurants less than twice a week have greater success with their weight loss. "If you do eat fast foods, don't supersize it," says Banes, and try to opt for a salad, small portions, or "get baked, not fried."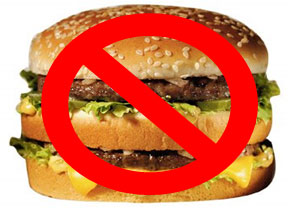 7. Don't Skip Meals
It is the Myth among people that skipping the meals will help them in losing Weight. But, it is completely wrong. When you skip a meal (suppose lunch) then you will eat more in dinner and this will definitely add up to your weight. You should eat less and eat healthy food.